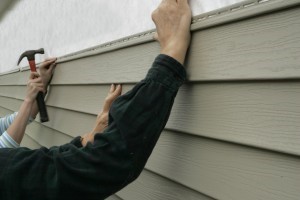 Vinyl siding can be a an area of intense debate in construction circles. There are many advantages and disadvantages to buying a home with vinyl siding or in deciding to install it on your home. Here, we'll break down the pros and cons of the popular siding material and how to decide if it's right for your home. Over the years, advancement in the makeup of vinyl and advances in the technology itself has made it a more popular choice among home owners and builders. Vinyl was introduced in the 1950's as a replacement for aluminum siding. Originally, vinyl was notorious for fading, cracking and buckling. Now, the material has been perfected to a new, higher standard. Advantages To Vinyl Siding:
Cedar is 2 1/2 times more expensive than than vinyl
Vinyl siding never needs to be painted
Easy to install
The material is versatile
The color will outlast paint
Water resistant
Helps to prevent damage from rain and snow
The biggest advantage of vinyl siding is the fact that it simply needs to be power washed from time to time and painting is not necessary. While power washing is an expense, it's still less expensive than painting the entire house every five years. In the right conditions, the siding also usually holds its color for a long, long period of time. However, there are always exceptions to these rules. Cons Of Vinyl Siding:
There's no time frame of how long vinyl siding will last
The durability of vinyl siding depends upon how the material itself
Vinyl siding is often installed over old siding, so existing problems could still remain
It's flammable, so grills and other items could pose a hazard
It may be hard to find a replacement piece in a matching color when you need it
The siding could increase your home's chances of developing mold on the outside
Susceptible to cracks
Seasonal maintenance is required
The cons listed above are mere warnings of the problems that could arise when vinyl siding is installed. There are pretty strict construction codes surrounding the installation of siding to help prevent these problems, yet, you should keep them in mind. The problems that could arise with siding also depend upon the type of material that's used to make the siding. It's good to do some investigating before you fully decide on the best material for your home's exterior So, while vinyl siding isn't a foolproof choice for a damage-free home, it does have some significant advantages over wood siding and paint. Depending upon the climate you live in and the type of look that you're going for on your home, the decision is ultimately up to you.